Whether you're new to New York, or a regular, you can't help but fall in love with the city. Sometimes, however, taking yourself off the beaten track can open your mind self to new and exciting opportunities. On my last trip to the states, I decided to do things a little differently and stay like a local. Who doesn't want to feel like they've lived in the city, even for just a couple of weeks?
Here are my top 5 unusual ways to enjoy the city.
1. Stay in an art gallery!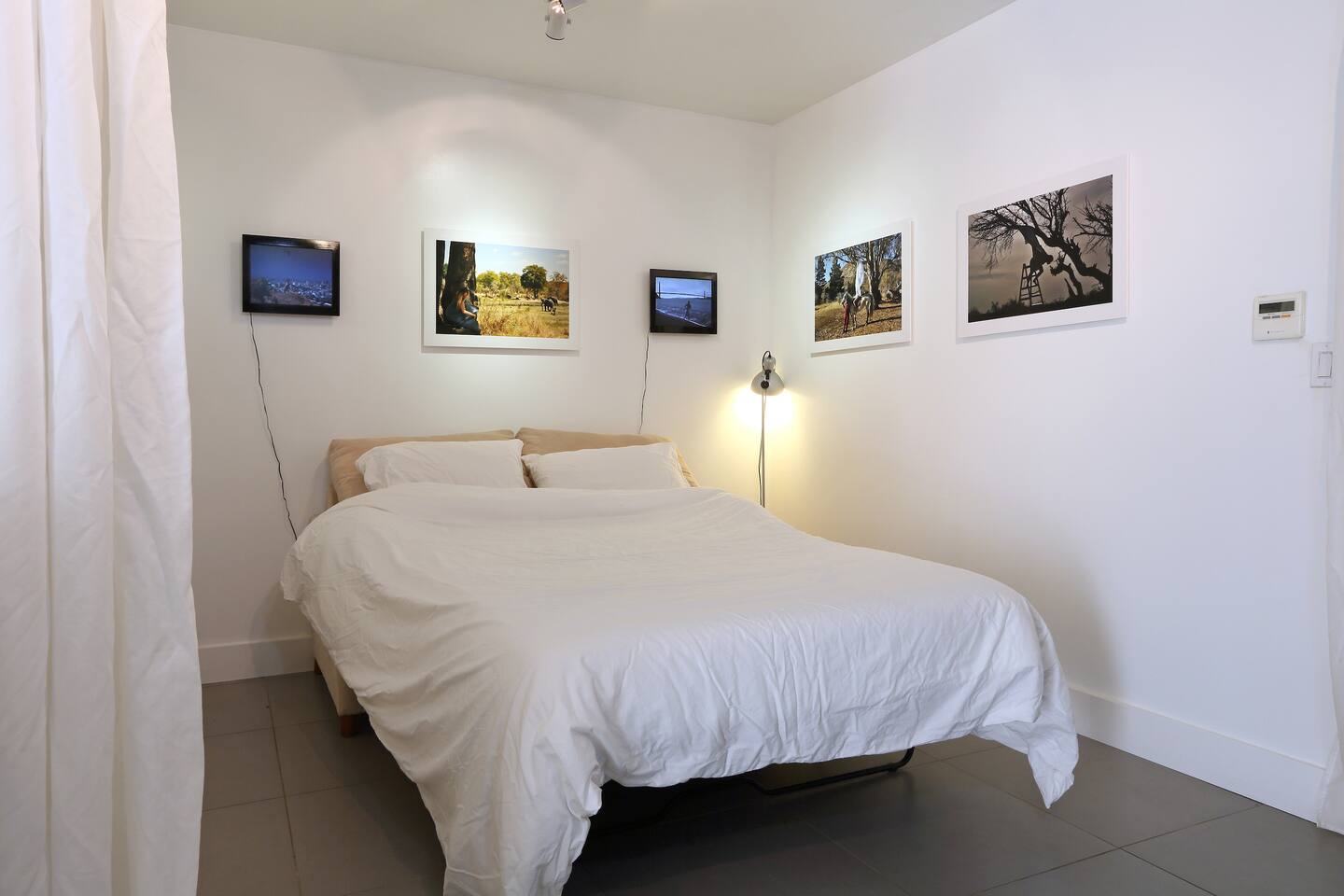 Hotels in any big city like NYC are expensive. If you're staying somewhere for more than a week, it's nice to feel homely and have more space. Airbnb still one of the most fun and unusual ways to travel and to meet people. I stayed at The Glasshouse, in Williamsburg, Brooklyn.
As an art/life/lab dedicated to generating artistic practices based on performance,
The Glasshouse regularly organises and hosts performances screenings, exhibitions, workshops and a residency program. When staying there, you'll be surrounded by interactive art and bunch of friendly people.  
Prices per night from $79.
Brooklyn itself has regenerated over the years, with Williamsburg being the hip and happening area, full of entrepreneurs, artists and freelancers. Think Shoreditch and Hoxton, if you're familiar with East London. 
Check out Modern Love for vegan brunches and fancy cocktails in the area. The Squeeze for raw loveliness (you can even a delivery from Uber Eats if you're feeling a little lazy!) SEA for incredible Thai food, Williamsburg Pizza (opposite The Glasshouse) for Pizza lovers. For fresh shrimp taco's to die for, head to McOndo Los Tacos, and for generous salad bowls, a good happy hour and people watching head to Trix. 
For a cinema experience with a twist (with a full menu and cocktail list where you're served throughout the film by your own waiter!) head to NightHawk.
And finally, for spectacular rooftop views of Williamsburg, check out Westlight. 
2. Cultural events by night
New York has a whole host of interesting evening events to attend all year round. The Galleries and many hotels now hold literary, music and foodie events.
In particular, check out MoMA. Not only a hot spot for its Modern restaurant and daily exhibitions, but they host lots of amazing evening treats like poetry evenings.
Check out up and coming events here.
3. Freelance in the city
Work remotely? New York has a whole host of amazing spaces to work out of. It's a great place to meet like-minded people and soak up some of the culture and creative vibes.
The West – 379 Union Ave, Williamsburg
The West is a coffeehouse by day and bar by night. It's run to support the local community of artists, writer and entrepreneurs – so sit back with the free wi-fi, get creative then kick back with a beer when 5pm rolls around. 
Check out Monday evenings when the live music kicks in.
Sweatshop – 232 Metropolitan Ave, Williamsburg
Sweatshop is an Aussie-run cafe, on basement level that serves the best eggs on sourdough in the area (also check out their toasted banana bread!)
With free wifi and a relaxed vibe, with welcoming staff that feels spacious even though it's pretty small.
Mountain Province Expresso Bar – 9 Meserole St, East Williamsburg
Mountain Province is a family run expresso bar, just off Union Avenue East Williamsburg. Perfect for those who need a quiet atmosphere to concentrate on work. The wi-fi is speedy too, and at the end of the day, that's just what you need if you need to work while in the city!
Ace Hotel
Working out of the Ace Hotel's lobby is a great way to pick up on events their holding and do a bit of celeb watching. The Ace also hold a whole host of interesting events across all their hotels. You can find out more here.
4. Music, baby
Typically, there's always something spectacular going on at Madison Square Gardens, but how about some local less known haunts? Brooklyn Steel, (leading independent, edgy bands and artists – it doesn't get crazy scary, crowd-wise either). For other music events and venues across Brooklyn check out the Music Hall of Williamsburg. 
5. Staying hip and healthy
Between all the American treats, there's no reason not to keep yourself hip and healthy while in the city. NYC has a whole range of studios and Yoga haunts to keep you balanced while in the city. My go-to was SoulCycle where you can pick up 5 sessions for $165.00 (£127 – £25 per ride).
They have studios all over the city, and the classes are never intimidating. 45 minutes later you'll have had fun, burned off all the Magnolia bakery indulgences, and ready to take on more of the city!
For a comprehensive guide to NY City, click here.
Get yourself around the big apple with a New York CityPASS.
Each New York CityPASS ticket booklet includes prepaid admission to carefully selected must-see attractions in the city and saves 40% off regular combined admission prices – with VIP routes to help you skip all the main-entrance ticket lines #SeeYourCity.